Which are the Best Scottish Whisky Distilleries to Visit?
admin
Despite being hundreds of years old, and having endured periods where it was out of favour, today whisky is big business, and nowhere more so than in Scotland.
All across the country there are distilleries, both young and old, producing this aqua vitae, or water of life, as it was once known, and exporting all across the world to appreciative fans.
Some of the distilleries operate in traditional buildings dating back hundreds of years. However, some more recent distilleries use brand-new facilities developed for whisky production in the present-day, often using environmentally friendly and sustainable practices in their production.
For those visiting Scotland, a trip to a scotch whisky distillery is the perfect way to learn more about this industry and the famous product, and to discover the different tastes available.
Whisky Regions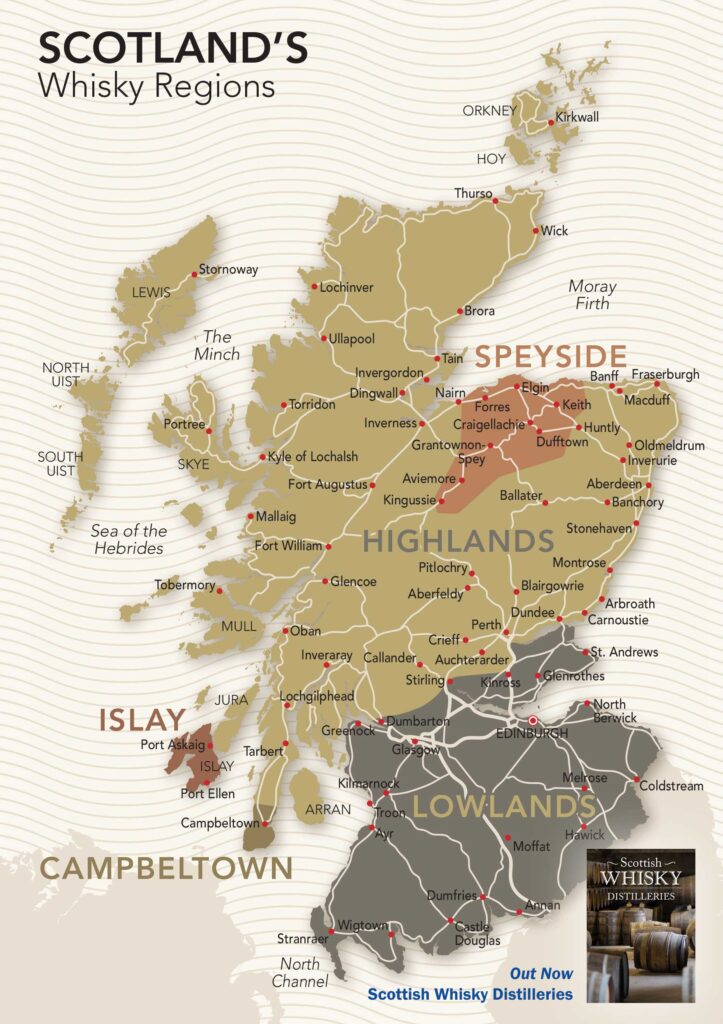 Scottish whisky distilleries are generally divided into five regions: Campbeltown, Highland, Islay, Lowland and Speyside. The Islands (Hebrides, Orkneys and Shetlands) are sometimes grouped into their own region.
The flavours of the whiskeys produced in each of these regions are often unique to them, and easily identifiable to those with a taste (or a nose) for the liquor.
Visiting Scottish Whisky Distilleries
Many of the whisky distilleries across Scotland have their own visitor centre where guests can learn about the history, distilling process, products and, most importantly, sample the whisky. Some of these are small attractions, while others put on a more substantial experience for visitors.
If you're visiting Scotland, you should try to visit the following whisky distilleries, which come highly recommended:
Aberfeldy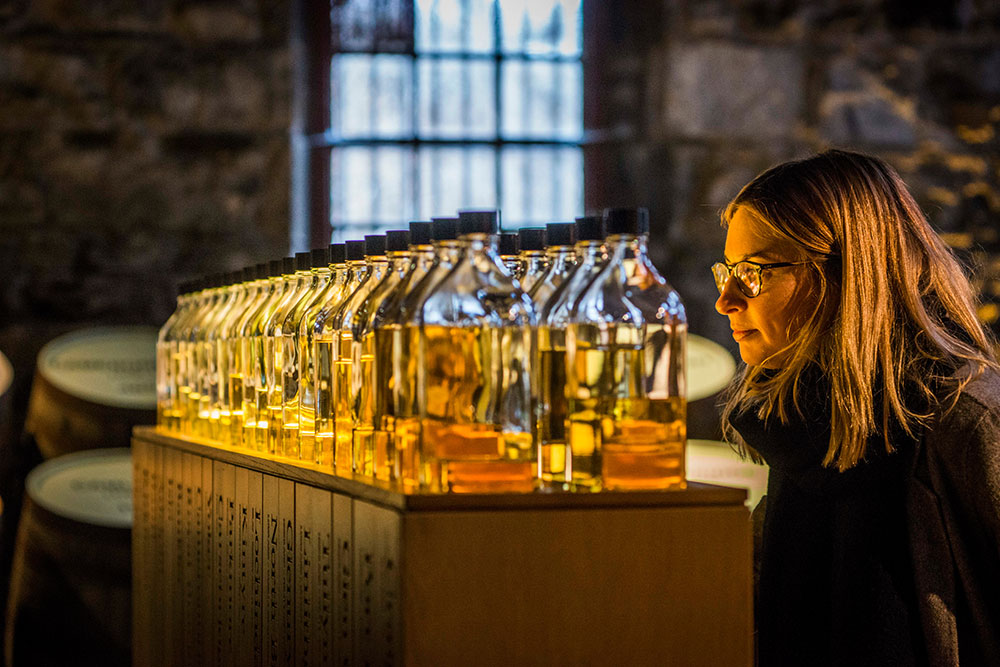 Aberfeldy, Perthshire PH15 2EB
Phone: +44 1887 822010
Web: www.dewarsaberfeldydistillery.com
Aberfeldy is a Highland distillery in Perthshire. It dates to 1898 and was created by John Dewar & Sons. Thomas Dewar was instrumental in the art of crafting blended whisky here, and so this distillery has always survived on creating malts for blends, particularly Dewars.
It is home to one of the biggest whisky visitor centres in Scotland, and this is built around the part this distillery has played in whisky blends.
Dewar's Aberfeldy Distillery visitor centre also has a café, restaurant, bar and shop. A range of guided tours of the distillery are available, with tastings. Booking is advised.
Blair Athol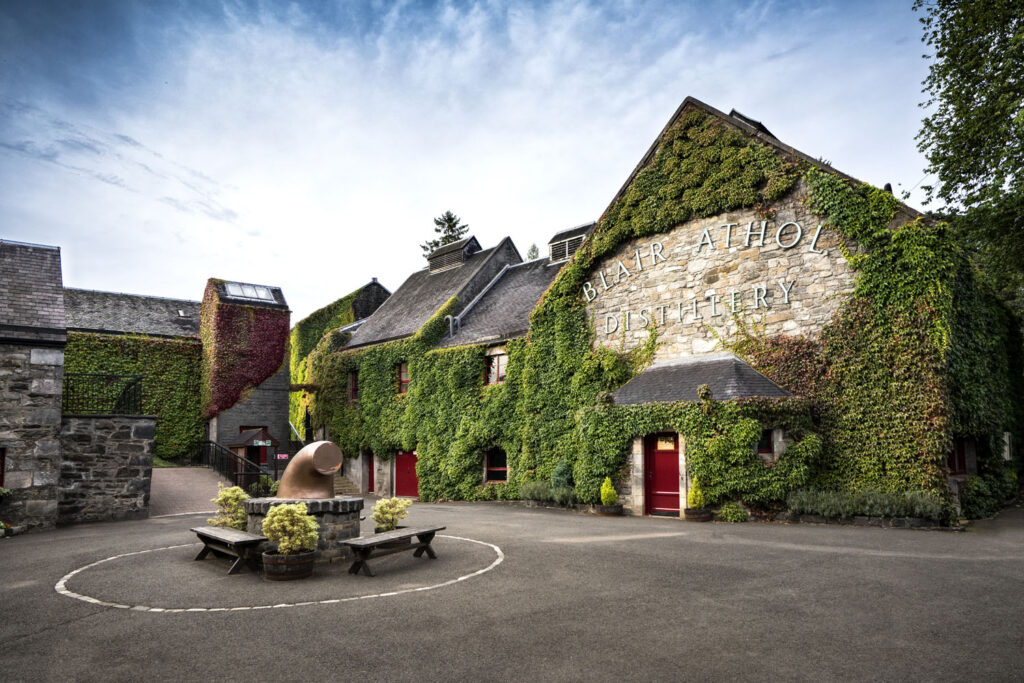 Perth Rd, Pitlochry PH16 5LY
Phone: +44 1796 482003
Web: www.malts.com/en-gb/distilleries/blair-athol
Founded as Aldour Distillery in 1798, it was resurrected in 1826 as Blair Athol.
A popular attraction in Pitlochry, Blair Athol has a visitor centre open daily from 10am, with gift shop and various tours, tastings and master classes. Must be booked in advance.
The Borders Distillery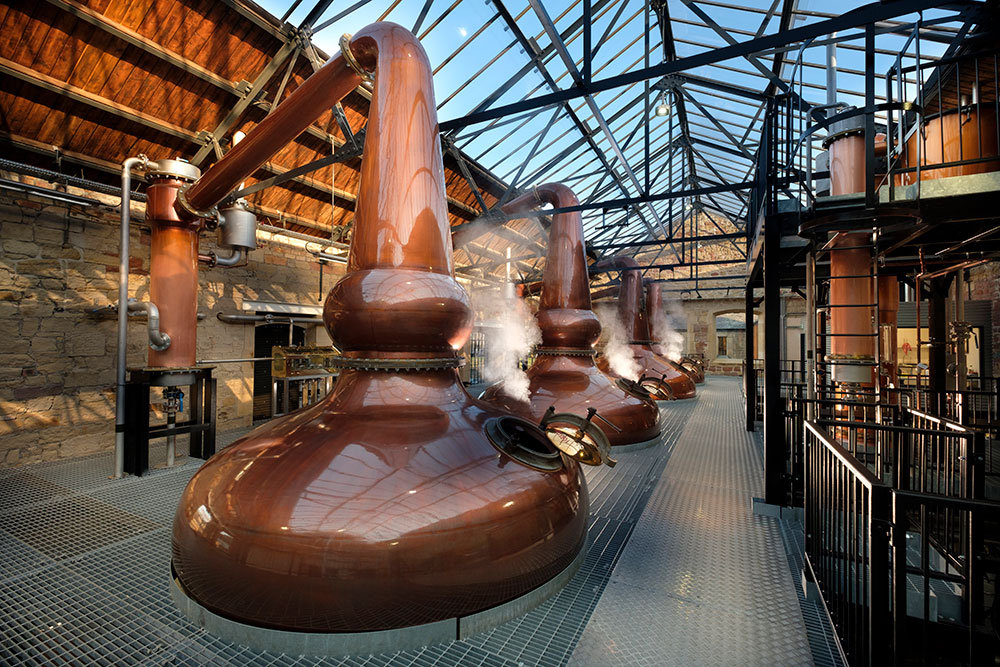 Commercial Rd, Hawick TD9 7AQ
Phone: +44 1450 374330
Web: www.thebordersdistillery.com
The Borders Distillery opened in 2018 and seems to be ticking all the right boxes. Founded by experienced whisky people, it has chosen a location where it stands out from the crowd, literally on the border with England.
Visitors can come and explore the highly-rated visitor centre and learn how The Borders Distillery is producing whisky (and other drinks), take a tour and buy something in the gift shop. Tours must be booked in advance.
Bunnahabhain
Bunnahabhain Distillery, Port Askaig, Isle of Islay PA46 7RP
Phone: +44 1496 840557
Web: www.bunnahabhain.com
Islay's most northerly distillery, Bunnahabhain is a purpose-built little community down a farm track near Port Askaig. It includes the distillery buildings, workers cottages and a pier where steam ships used to deliver supplies and take away barrels of whisky.
Journeying down the track to the seashore location is an Islay whisky fan pilgrimage. The distillery offers tours and tastings, as well as a visitor centre, cafe and shop. Open daily from March to October. Booking recommended.
Dalwhinnie
General Wade's Military Road, Dalwhinnie, Inverness-shire PH19 1AB
Phone: +44 1540 672219
Web: www.malts.com/en-row/distilleries/dalwhinnie
Dalwhinnie might seem like an unlikely place for a distillery and major tourist attraction, but it is both of those. Built high up in the Cairngorms National Park, it was for a long time Scotland's highest distillery at over 1,000ft above sea level. It is also Scotland's coldest distillery, going by local average temperatures.
Dalwhinnie has a large visitor centre with shop and plenty of tours and tastings. These include tours of the distillery, masterclasses and even the chance to taste some of the rarer bottlings. Must be booked in advance. Open daily from 10am.
GlenAllachie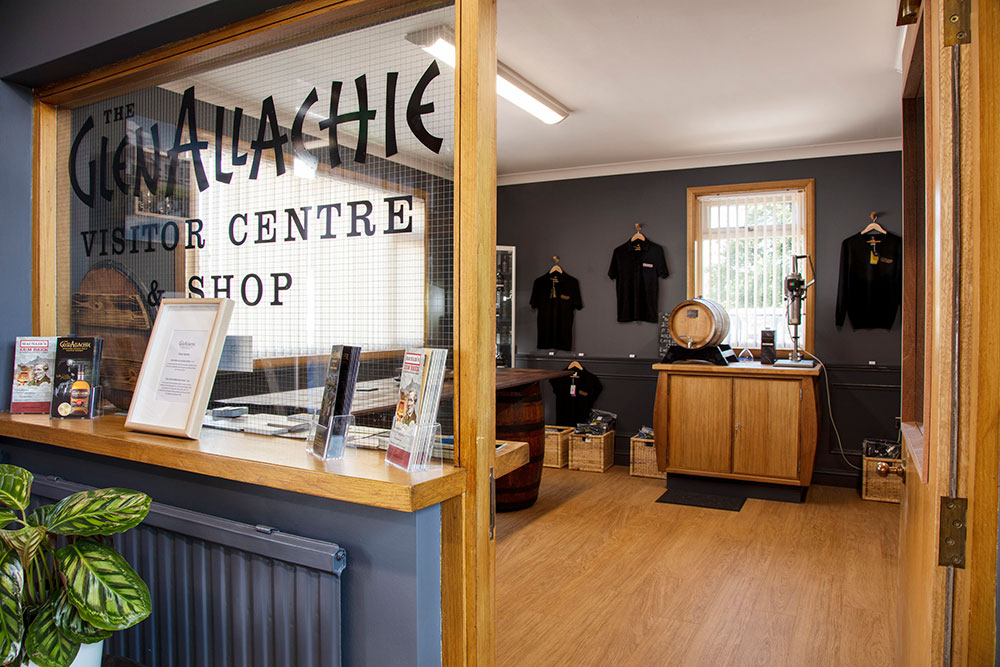 Aberlour, Banffshire, AB38 9LR
Phone: +44 1340 872547
Web: www.theglenallachie.com
Only established in 1967, The GlenAllachie sits on the Beachschach Burn which provides water directly to the distillery and, with mighty Ben Rinnes standing tall behind, it really is a lovely setting.
The GlenAllachie visitor centre opened fairly recently and offers two experiences. Both give a tour of the distillery and a chance to speak to staff. The first runs 10am and 1pm Monday to Friday and lets you sample four whiskies. The second, running at 11.30am and 2.30pm Monday to Friday includes sampling an exclusive hand-fill not available elsewhere. You can book online.
Glenfarclas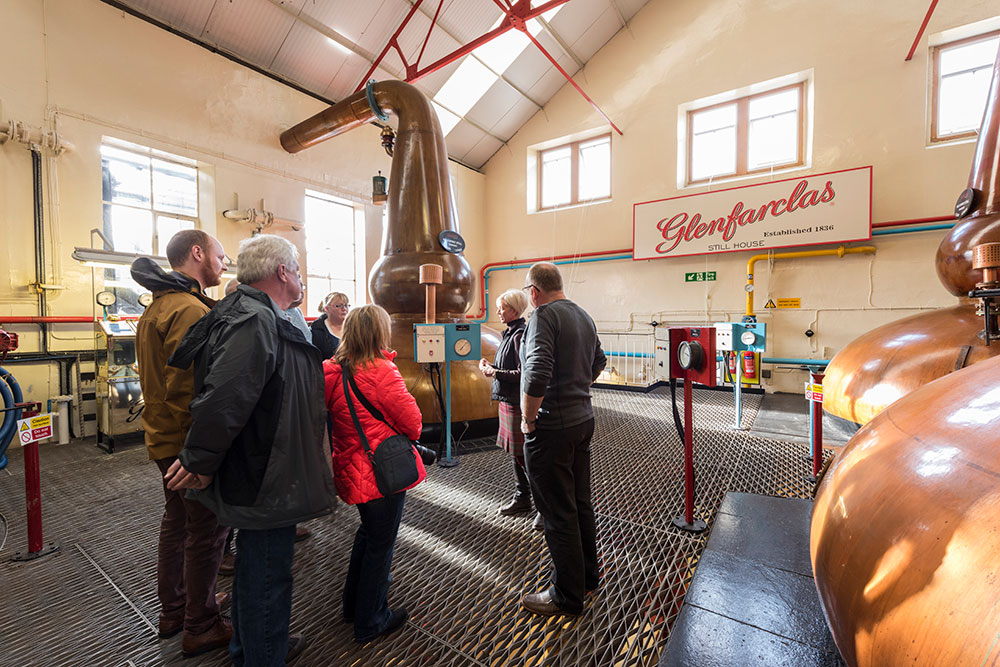 Ballindalloch, Banffshire, AB37 9BD
Phone: +44 1807 500345
Web: www.glenfarclas.com
Truly one of the big names in Scottish whisky, and a well-known family firm which produces one of the most enduring ranges of whiskies.
Three different tours are on offer year-round at the visitor centre, with the Classic Tour offering an insight into the history of the distillery, its production process, a tasting in the Ship's Room (featuring panelling from the RMS Empress of Australia) and a visit to the shop. The more in-depth Connoisseur's Tour and Five Decades Tour both take in more of the site, its warehouses, and samples of rarer whiskies from the range. Booking and times available on the website.
Glenfiddich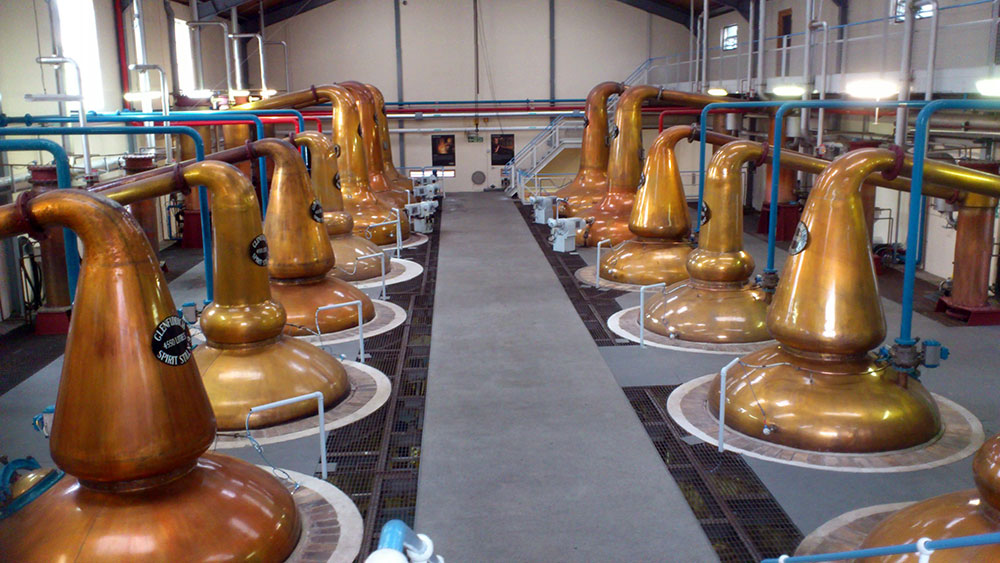 Dufftown, Keith AB55 4DH
Phone: +44 1340 820373
Web: www.glenfiddich.com
The best known of all the whisky brands and distillers in Scotland, Glenfiddich is a tale of determination and self reliance which has resulted in it becoming one of the world's largest producers.
Glenfiddich was the best-selling single malt whisky for over 40 years until recently overtaken by The Glenlivet.
Visitors to the distillery's revamped £2 million visitor centre will learn of its history, production methods, and products. Enjoy tutored tasting sessions, meals, afternoon teas, gifts and of course guided tours. It makes a great day out.
Glenglassaugh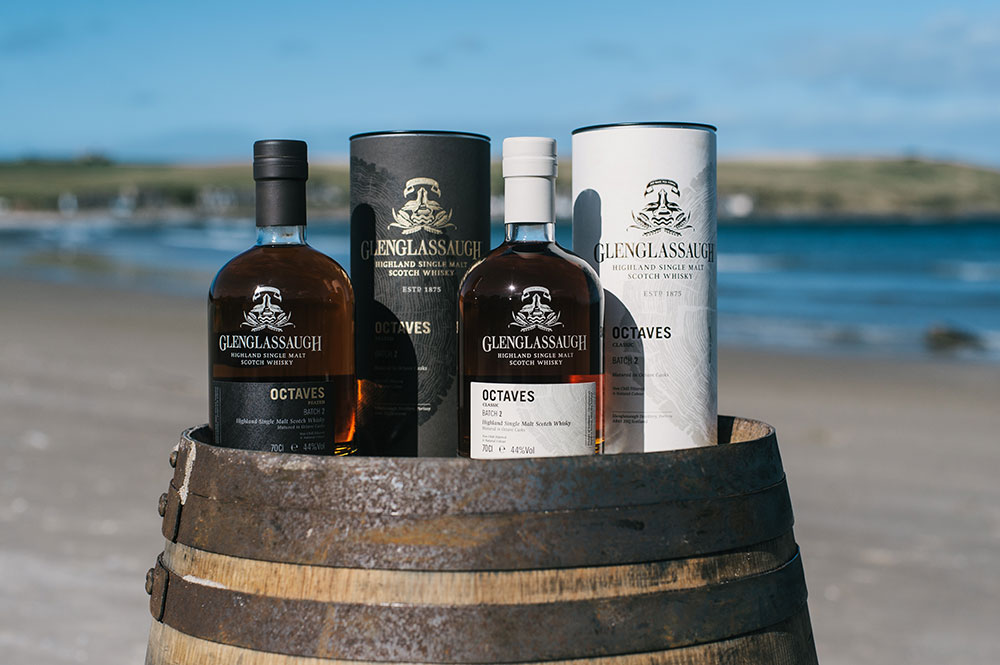 Portsoy, Banff AB45 2SQ
Phone: +44 131 335 5135
Web: www.glenglassaugh.com
Glenglassaugh is set in a beautiful location and still uses traditional methods in creating its whisky.
As well as producing whisky for some famous blends, Glenglassaugh is also producing award winning single malts of its own.
A visit to Glenglassaugh is a chance to experience and learn about the traditional methods still used at this distillery. It's also a very scenic place to visit, even if the buildings are less so. Open year-round Monday to Friday (and weekends from May to September). Pay a little extra for tastings.
Glengoyne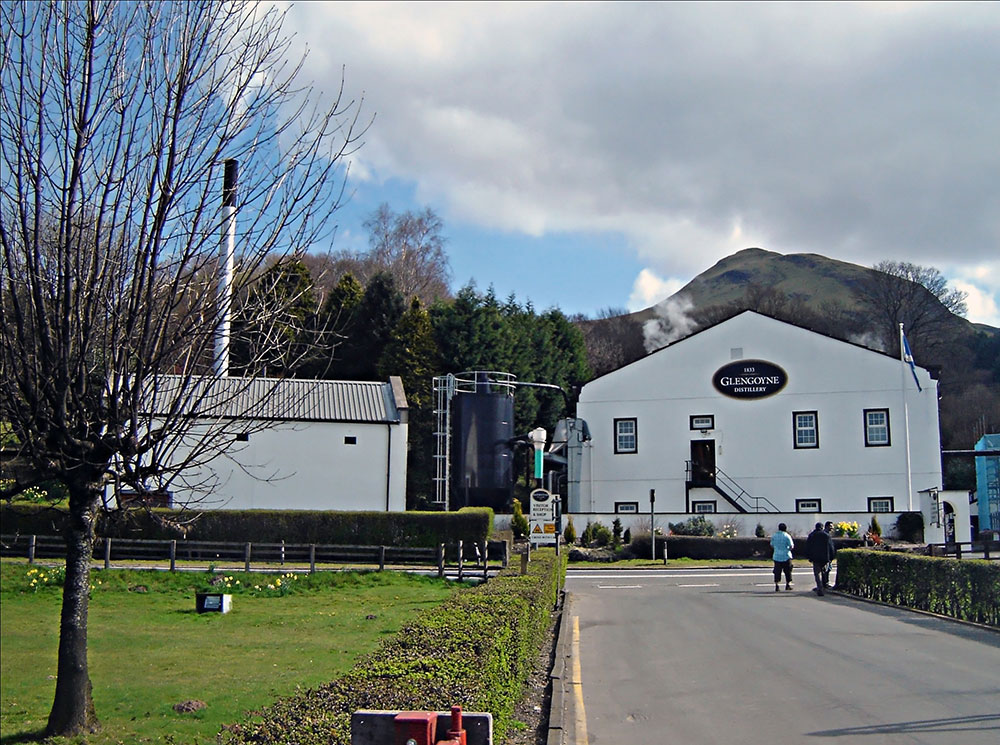 Dumgoyne by Killearn, G63 9LB
Phone: +44 1360 550254
Web: www.glengoyne.com
If you're a fan of the splendour of the Scottish countryside and the scenery it can often reveal, then a visit to Glengoyne is a must. Surely one of the most attractive locations of any distillery in Scotland, this site in Stirlingshire even has its own waterfall to see.
The distillery is open to visitors from 10am to 5pm daily. A number of tours are offered, from one-hour tastings, to two-hour Malt Master tours, and even five-hour Masterclasses where you get to create your own Single Malt. There is also a shop to purchase Glengoyne products, and you can take a walk to the waterfall while visiting.
Glenkinchie
Pencaitland, Tranent, East Lothian EH34 5ET
Phone: +44 1875 342012
Web: www.malts.com/en-row/distilleries/glenkinchie
Glenkinchie is close to Edinburgh, near the village of Pencaitland. It was founded in 1825 by two local farmers who tried to make a go of larger scale production from what they had (probably) been doing illegally on the side for years.
As a fine example of a Victorian distillery, Glenkinchie is open to the public with a visitor centre in the old maltings. It acts as a museum to whisky distilling, and also has a fine restaurant and gift shop on site. Open daily, with direct buses from Edinburgh.
The Glenlivet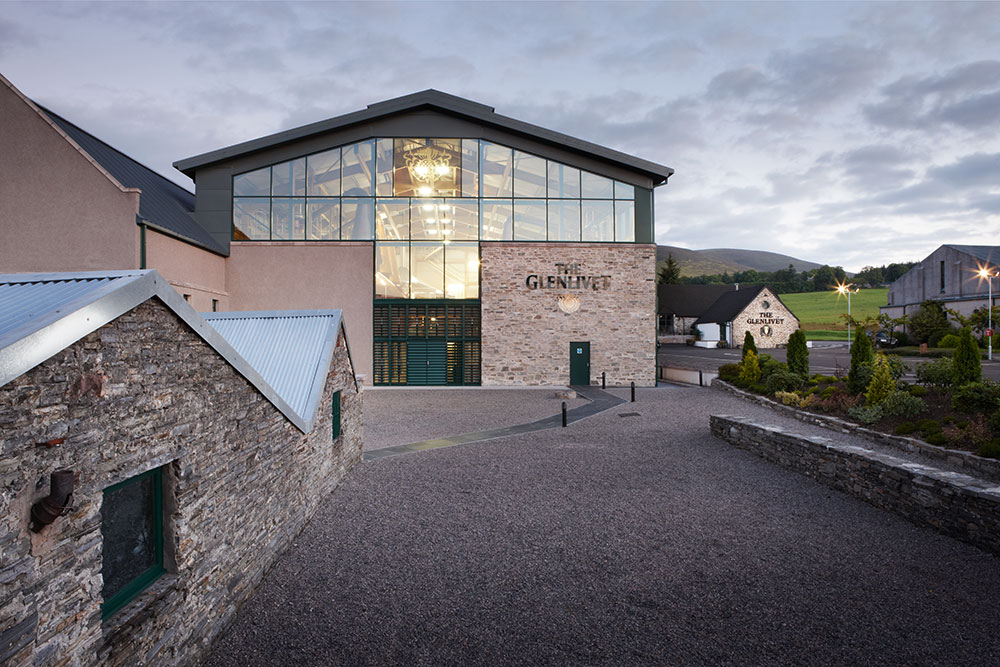 Glenlivet, Ballindalloch AB37 9DB
Phone: +44 1340 821720
Web: www.theglenlivet.com
Situated in the wild and remote Livet Valley, The Glenlivet is one of the big names in Scottish whisky. In fact, today this is the best-selling single malt brand.
Visit Glenlivet and enjoy a tour of the distillery, a dram in the library, or the chance to buy a special expression and other items from the gift shop. Signposted walks lead through the Livet Valley where you can discover the history of illicit distilling here. Pre-booking is essential for tasting tours. Distillery is open daily from March to November. Open Tuesday-Saturday December to February.
The Glenturret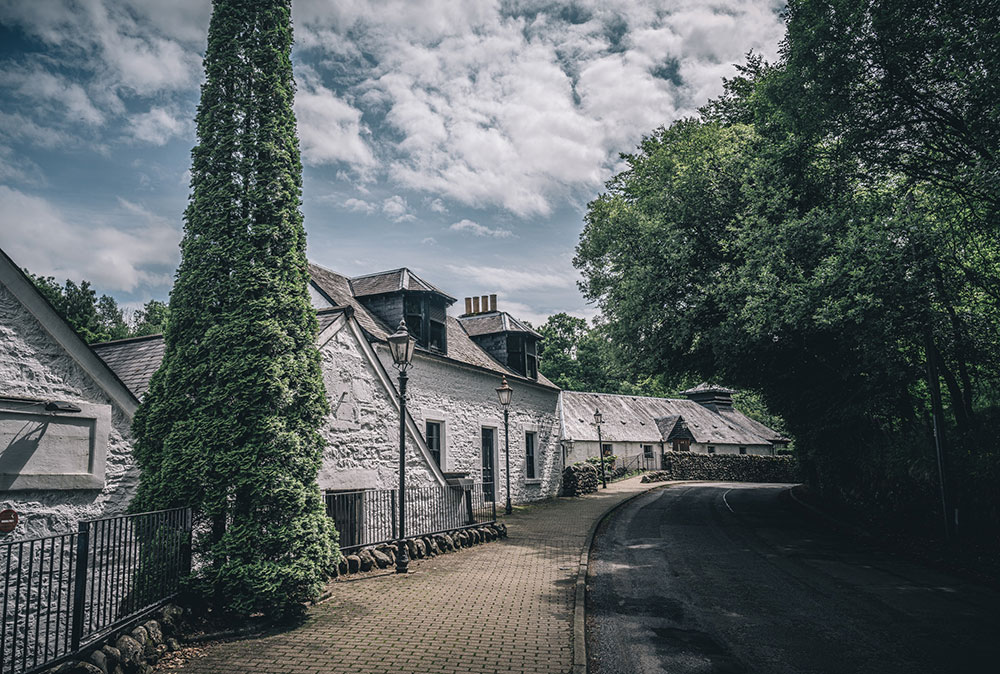 The Hosh, Crieff PH7 4HA
Phone: +44 1764 656565
Web: www.theglenturret.com
Could this be Scotland's oldest active distillery? The Glenturret would certainly make that claim, having been founded in 1775 and still going strong today. This whole area, hidden away in a valley near Crieff, was a source of illicit distilling, and this was one of the first in the area to go legal.
Take an immersive tour of Scotland's oldest working distillery. A range of tours, ranging from one hour to an entire day. The shorter tours run hourly from 10.30am and should be booked in advance where possible. Longer tours see you helping hand rouse the barley and even blend your own whiskey. Open Monday to Friday.
Highland Park
Holm Road, Kirkwall, Orkney KW15 1SU
Phone: +44 1856 885604
Web: www.highlandparkwhisky.com
Highland Park has the distinction of being Scotland's most northerly distillery, on Orkney.
Its visitor centre is a major attraction, with information about the distillery, its history and products. Four different tours are available, each looking around the distillery and enjoying a tasting. Some offer tastings of exclusive and heritage bottlings and gifts to take home. Booking is essential. There is a gift shop in the centre of Kirkwall. Open daily April to October, and Wednesday to Sunday, 10am to 5pm.
Jura
Craighouse, Isle of Jura PA60 7XT
Phone: +44 1496 820385
Web: www.jurawhisky.com
Jura is a remote and sparsely populated place, but the Jura distillery is a beautiful place to visit. It offers tours of the distillery and a gift shop. Booking is recommended, particularly in the summer. Open Monday to Friday (plus Saturday in summer).
Lagg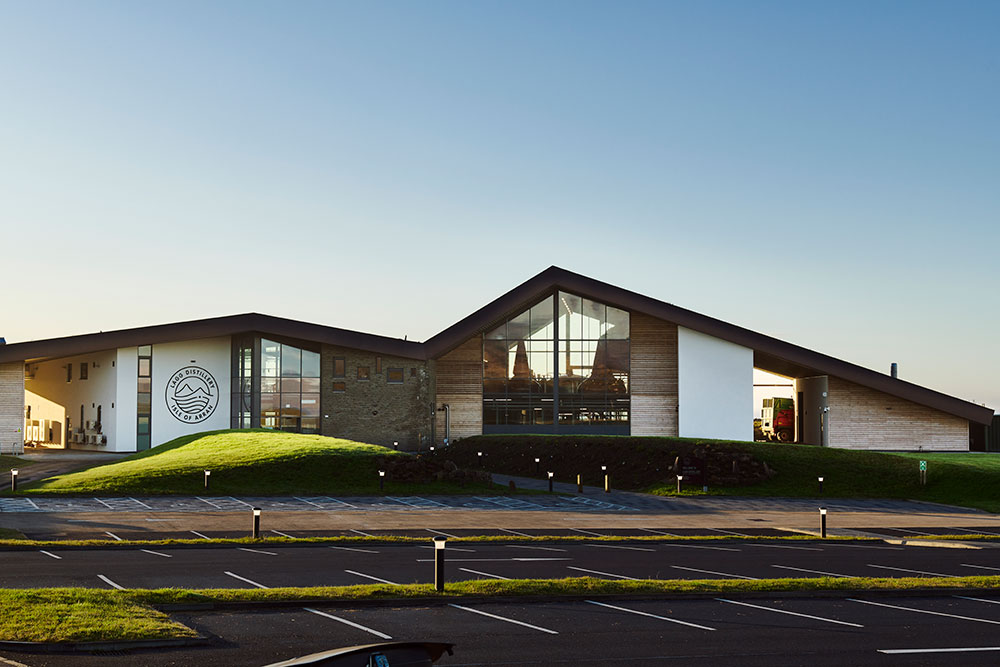 Lagg Distillery, Kilmory, Isle of Arran KA27 8PG
Phone: +44 1770 870565
Web: www.laggwhisky.com
Arran's newest whisky distillery, producing its first spirit in 2019. For years illicit 'Arran Waters' were illegally smuggled from Lagg. Now this new distillery – which is fully legal, it might be added – is building on that heritage.
You can join a tour of Lagg Distillery, learning about the history of illicit whisky production on Arran, and how they're building on that. Watch the production process, enjoy food in the cafe and visit the shop, which are open daily. Tours are daily, except Sunday and Monday in the winter. You can drop in for a shorter tour, or book in advance for the more detailed offering.
The Macallan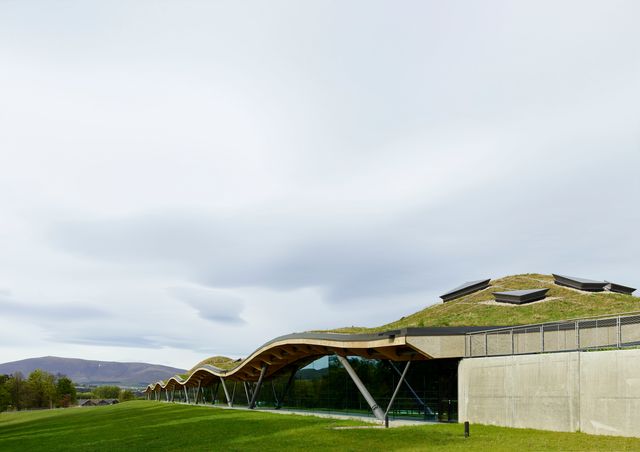 Easter Elchies, Aberlour AB38 9RX
Phone: +44 1340 318000
Web: www.themacallan.com
The Macallan is one of the great names in Scottish single malt whisky distilling.
A visitor centre was opened in 2001, and in 2014 this was superseded by the present facility which is one of the best among Scotland's whisky distilleries. With stunning architecture and interiors, guests are taken on an immersive experience through the proud heritage of The Macallan. Various tours are on offer of different lengths and prices, and should be booked in advance.
The Elchies Brasserie offers a gastronomic experience paired with The Macallan Distil Your World London Single Cask. You can also relax in The Macallan Bar. The Distillery Boutique sells produce, limited edition bottles and other gift items.
Oban
Stafford Street, Oban, Argyll PA34 5NH
Phone: +44 1631 572004
Web: www.obanwhisky.com
Two businessmen founded a brewery in the small fishing port of Oban in 1793 and the next year turned their attention to distilling whisky. From that moment on, this site has continued producing whisky almost continuously to this day.
Tours of Oban's distillery are very popular. Knowledgeable guides uncover the ancient art of distilling, the history of the site, a look at the production, and end with a dram of the famous 14-year-old. Other, more exclusive tours are also available. Book through the website.
Springbank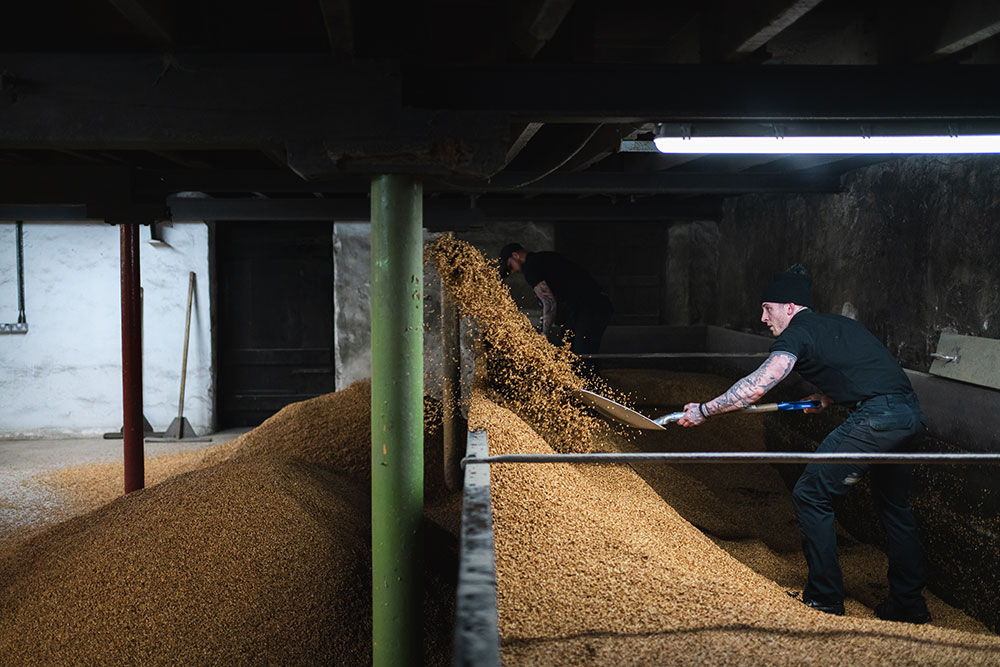 9 Bolgam Street, Campbeltown, Argyll, PA28 6HZ
Phone: +44 1586 552009
Web: www.springbank.scot
Springbank has the distinction of being the oldest independent family owned distillery in Scotland. It was established by Archibald Mitchell in 1828 on the site of a still he ran illicitly prior to making things official and legal. A fifth generation of the family, Hedley Mitchell, is in charge today.
Journey through this historic Campeltown distillery with its unique setup on a tour to discover the process.
Get the Book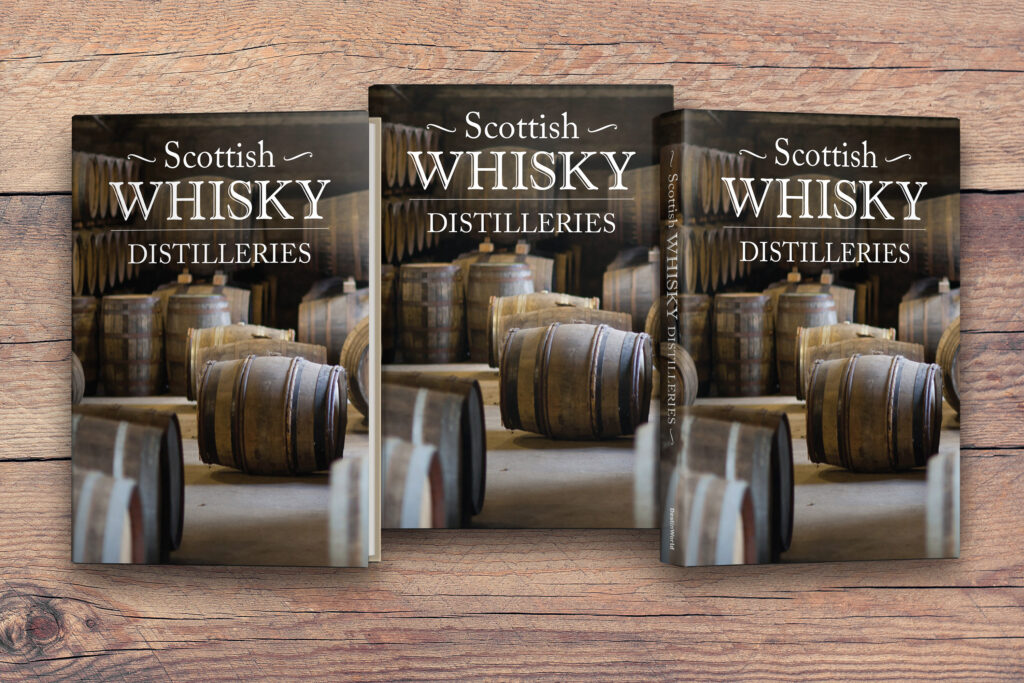 Scottish Whisky Distilleries is a new book produced by Destinworld Publishing. Discover more about every distillery operating in Scotland today, including its history, products and even visitor information.