Yorkshire's Most Famous Authors
admin
The wild landscapes and northern industrial cities of Yorkshire in northern England evoke many images in our minds, and many famous authors and writers have hailed from this region or been inspired by it in their works.
Here we list some of Yorkshire's most famous authors and a bit about how the region marked their work so noticeably.
J. C. Atkinson (1851-1900)
Two miles outside Danby in Danby Dale is St Hilda's church. John Christopher Atkinson is buried there – ornithologist, natural historian and author of Forty Years in a Moorland Parish: Reminiscences and Researches in Danby in Cleveland (1891) in which he meticulously describes the 70,000 miles he is said to have covered hiking the North York Moors over fifty years.
Forty Years in a Moorland Parish reveals Atkinson's love of nature and of the far-flung Yorkshire parish in which he so assiduously worked. The vivid descriptions of moorland life are matched with conversations with moorland folk, most of whom would never have set foot out of the hills and dales.
Alan Bennett (b. 1934)
Alan Bennett's early days in Armley, Leeds, define the man and inform much of his work. His regular forays over forty years to his house in the Dales village of Clapham further reinforce his associations with Yorkshire and add a rural landscape to the decidedly urban, working class and back-to-back backdrop that is Armley. Taken together, the rural and the urban merge to provide an influence that is unmistakably Yorkshire, with characters that are often decidedly northern, if not specifically Yorkshire, folk. His uncanny ear for Yorkshire dialect, the absurd and just plain daft things people sometimes say, office gossip minutiae, and the eccentricities of the ordinary man and woman is unmatched.
Yorkshire is by no means everywhere in Bennett's work but it is all over the place, including in his books, TV plays and monologues.
Barbara Taylor Bradford (b. 1933)
Barbara Taylor Bradford was born, like Alan Bennett, in Armley, Leeds. The two went to the same infant school.
Bradford's first success came in 1979 when A Woman of Substance was a mighty multi-million selling success – one of the top-ten bestselling novels of all time. It tells the story of Emma Harte, a downtrodden Yorkshire housemaid who pulls herself together, gets her act together and accumulates huge wealth thanks to her amazing business skills, and, no doubt, her Yorkshire thrift.
Charlotte Brontë (1816-1855)
The three Brontë sisters were born at 74 Market Street in Thornton on the edge of Bradford. In 1820 their father was appointed to the perpetual curacy in Haworth seven miles away and moved with the family into the five-roomed Haworth Parsonage. Countless books and articles have been written about landscape in the novels and poetry of the three Brontë sisters – and rightly so: the use of landscape in the Brontë books defines those books and their characters, and remains one of the reasons why they have enjoyed a wide appeal since publication.
Charlotte worked briefly as a governess at Stone Gappe in Lothersdale, near Skipton – the model for Gateshead Hall, the childhood home of the eponymous heroine of Jane Eyre (1847).
Anne Brontë (1820-1849)
Anne's unhappy times at Blake Hall near Mirfield where she worked as a governess for the Ingham family in 1839 are vividly recalled in Agnes Grey (1847). The moors around Haworth are referenced in the opening paragraphs.
In 1840Anne took up a second post as governess under the Reverend Edmund Robinson at Thorp Green Hall. During Anne's time at Thorp Green, she went with the family on their five-week annual holidays to Scarborough, a place she loved; the resort features in Agnes Grey's final scenes and as Linden-Car village in The Tenant of Wildfell Hall (1848).
Emily Brontë (1818-1848)
Emily Brontë taught at Miss Patchett Ladies' Academy at Law House, near Halifax, for six months in 1837-1838. She later used her experiences here as a source for parts of her only novel, Wuthering Heights (1847), published under the pseudonym, Ellis Bell. If Dante Gabriel Rossetti is to be believed, the landscape created by Emily is nothing short of chthonic: 'A fiend of a book – an incredible monster […] The action is laid in hell, – only it seems places and people have English names there' [Letters of Dante Gabriel Rossetti to William Allingham, 1854–1870]. While maybe not quite hell on earth, wild, bleak and desolate the setting for Wuthering Heights certainly is, and Brontë has drawn for us one of the greatest, most vivid landscapes in English literature, made all the more atmospheric and dramatic because it was there, all around her, tangible, dynamic and visible on her very doorstep at the Haworth parsonage.
George Gissing (1857-1903)
Author and teacher George Gissing was born and grew up in 2–4 Thompson's Yard, behind 60 Westgate in the Cornmarket area of Wakefield. Many of his twenty-three novels and short stories are informed by his early life in the town. An exhibition in 2017 at the The Gissing Centre, Thompson's Yard, captured this: it took the title of one of George's novels, A Life's Morning, which is set in a fictional town with unmistakable echoes of Wakefield. It tells us of the tangled and tortuous love life of a poor but cultured young woman, Emily Hood, from a small town in the north of England in service as a governess to a wealthy country family. This exhibition conjured up a morning walk of 1865 taken by George from his home to the Mechanics' Institute in Wood Street, now Wakefield College's Performing Arts Department. It relates stories behind the buildings he would have passed, some still there, others long gone. George would have seen the frantic preparations for the Wakefield Industrial and Fine Arts Exhibition of 1865, which his father helped to organise.
James Herriot (1916-1995)
James Herriot is the pen name for James Alfred 'Alf' Wight, a veterinary surgeon who tapped into his experiences as a vet in the Yorkshire Dales west and north of Thirsk to produce a series of semi-autobiographical works, beginning with If Only They Could Talk in 1970. The highly popular television series based on the books was called All Creatures Great and Small.
The Dales landscapes are inextricably bound up in these stories – all the more obvious from the visual impressions afforded by the television series.
Susan Hill (b. 1942)
Susan Hill is a prolific author of fiction and non-fiction books. She was born in Scarborough and from the age of three attended Scarborough Convent School where she developed an interest in the theatre and literature before relocating with her family in 1958 to Coventry. While in Scarborough, Hill, from a young age, attended many performances at the Scarborough Repertory Theatre, which was twinned with the Repertory in York, and alternated productions. When the Stephen Joseph Theatre in the Round opened in a large room above the Scarborough Library she went there as often as possible too.
She describes Scarborough as
"A beautiful place, with dramatic cliffs, two sweeping bays, amazing views, a Castle, a Harbour with fishing boats…. And when I was growing up there, it was a very genteel resort, full of retired and older people. Of course there were young people and I had plenty of school friends, but I still remember it as a place full of the old."
Ian McMillan (b. 1956)
To say that Ian McMillan is the voice of Yorkshire, with his signature Barnsleyesque accent, would be an understatement. The man is drenched in Yorkshire, a living epitome of the three counties and an ambassador beyond peer for Yorkshireness. McMillan was born in Darfield – four miles from Barnsley – and still lives there.
McMillan's prolific work on radio, television, on the stage and in print speaks eloquently for itself and consistently reveals an unmistakeable literary landscape forged by his upbringing and grown-up life in Darfield – a landscape that is all, and always says, Yorkshire.
Honorary Mention – Bram Stoker
While not born in Yorkshire, Abraham 'Bram' Stoker is forever associated with its coast thanks to his most famous novel, Dracula.
He has provided us with one of the England's famous and haunting Yorkshire literary landscapes by making Whitby the setting for his famous Gothic novel, Dracula, published in 1897. The associations live on to this day with the terrifying 'Dracula Experience', spooky Dracula walks with commentary, a Bram Stoker Film Festival, productions of Dracula in the Abbey ruins, and an annual Goth weekend that fills the town with wonderful Goth costumes, Goth makeup, Goth music and, of course, unfettered Gothic fear. All of this is comparatively easy to achieve due to the unique ambience and aura of Whitby – an atmosphere that would have shrouded Stoker on his morning walks and that remains to this day.
Get the Book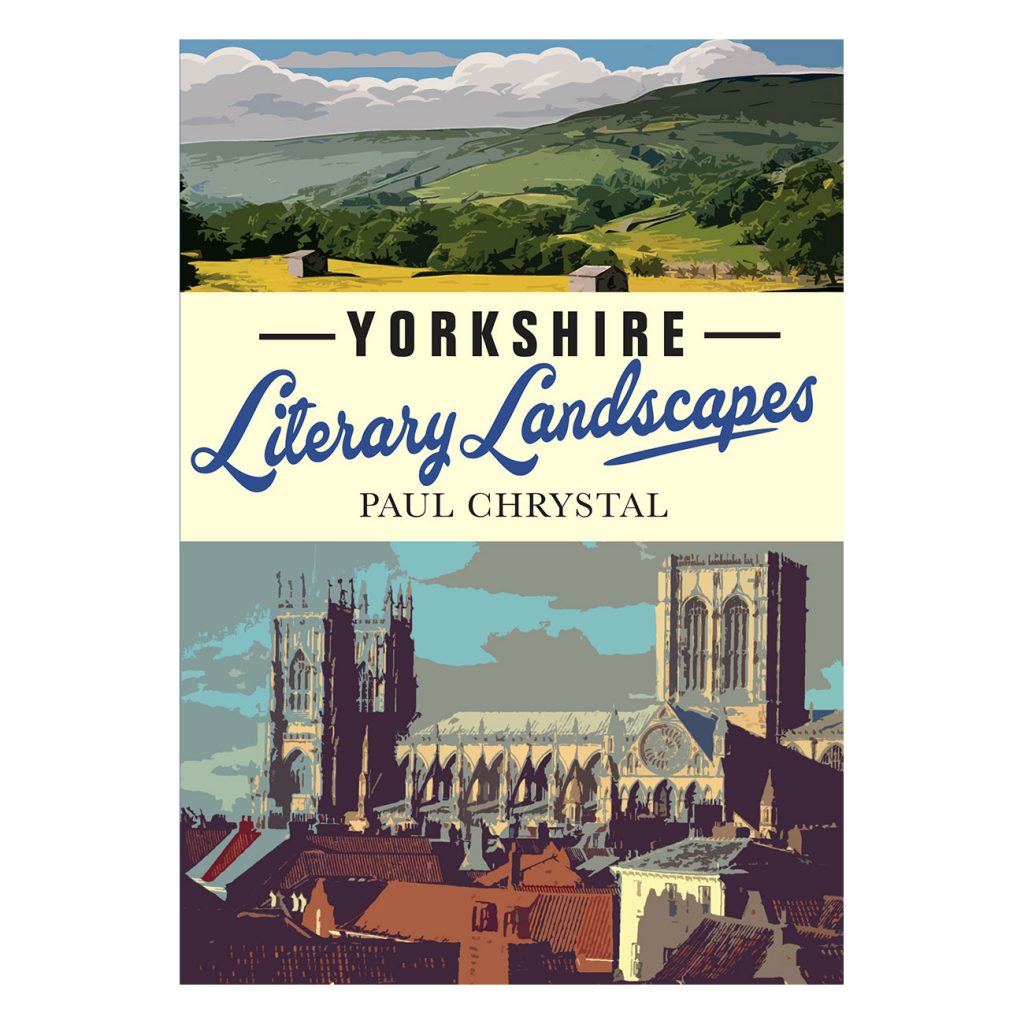 Yorkshire Literary Landscapes by Paul Chrystal is an illustrated guide to the authors and writers who were born in, lived in, or inspired by Yorkshire. Discover the places that formed their works, or shaped their lives as they were growing up. Read about the works created here and how Yorkshire played such a big part in the lives of literary giants like Bram Stoker, the Bronte sisters, Susan Hill, Charles Dickens, James Herriot, Alan Bennett and many more.