The Beginnings of Middlesbrough
admin
Middlesbrough is one of the largest towns in the North East of England.
It is a thriving commercial hub, with modern industries and the well-regarded Teesside University.
It has also been known in the past as an important industrial town, which experienced tremendous growth through the iron, steel and shipbuilding industries in particular.
Yet Middlesbrough is a relatively young town.
It only came into existence as a town in the early 1800s, whereas many of the other great towns and cities of the region go back centuries further in many case.
So how did Middlesbrough get started?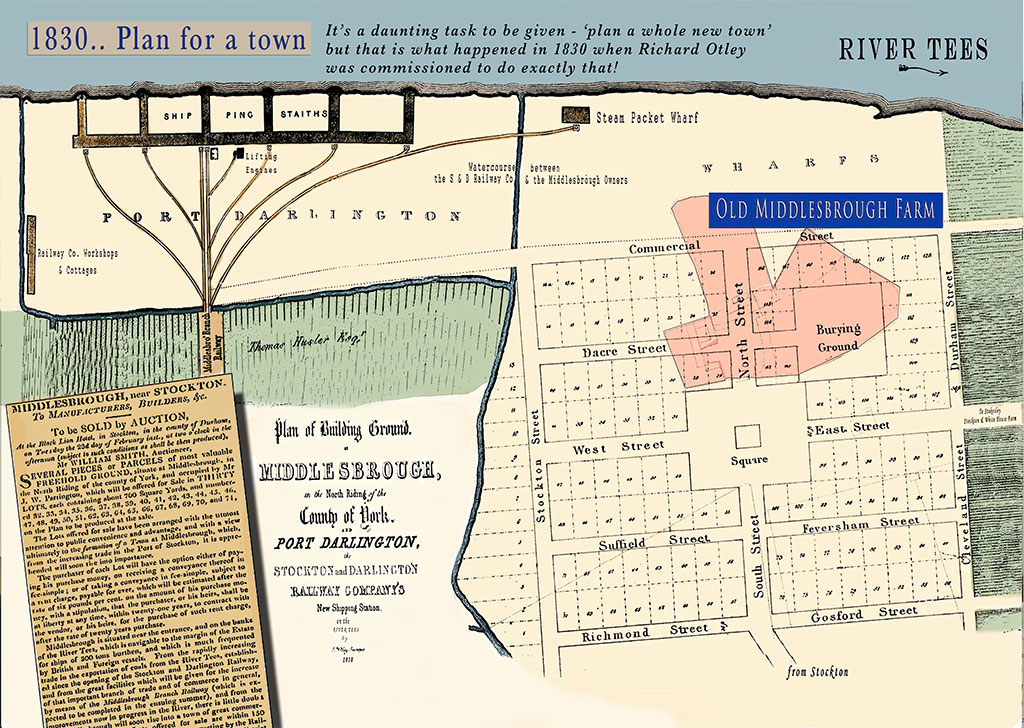 In his new book, Middlesbrough – A Colourful Past, Paul Menzies has used his wealth of archive material and images to tell the story of the beginnings of this town.
At the time, Stockton-on-Tees was the dominant urban area in Teesside. It was a port, centre of manufacturing and trade, and had the largest population.
However, with its position further inland along the River Tees, a site was sought closer to the sea where larger vessels could be used.
With the arrival of the Stockton & Darlington Railway in 1825, coal now had an easy route to the vessels which would transport it far and wide. Soon after, a plan was hatched to extend the railway further, to a place that would become known as Port Darlington. It opened in 1830.
The site was, however, the site of an old farm. Even older than that, there had been a small monastery on the site.
Now, with the arrival of the railway, a new town was planned by Richard Otley. He proposed a grid pattern of streets, with a central marketplace, church and houses. The coal staithes and railway were on the edge of the town, on the riverside.
These small beginnings would become the town of Middlesbrough.
Over the coming decades, its population would swell as iron ore was found in nearby hills. The town grew fast, enveloping old villages like Acklam, Linthorpe and Newport.
Paul Menzies' new book brings the past to colour for the first time, allowing readers to see just what old Middlesbrough looked like.
He said "I want the book to make a definitive point in recording the history of Middlesbrough – the industrial heritage that we all know about but have little record of other than small black and white images. To see the industrial images in colour was really quite an experience – colour adds a touch of beauty to what was often a very harsh and tough world.
"Most of all I want readers to really feel that these images have brought the past alive for them to experience the world that their grandparents knew so well – in full colour. "